Share on Facebook
Tweet on Twitter
Pin on Pinterest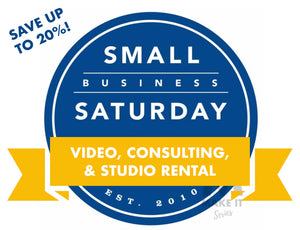 Buy Now, Save All Year!
Lock In Your 2019 Savings Today at 2018 Prices –
Save 5%, 10%, 15%, or 20% For All Of 2019!
Offer Good Only Through November 24, 2018
How To Save
Purchase a Small Business Saturday membership retainer today and apply your savings throughout 2019. We will discount ALL of our 2019 services by the % amount you choose – including services applied to your retainer and for new purchases during 2019 even after your retainer is depleted.
Choose from any of our services:
Media Production (Video Recording & Editing)
Business Consulting
Studio Rental 
How It Works
Your retainer plus discount will be automatically applied throughout the year when you choose from our services or packages or when you contact us directly for your special needs and invoicing.
About Small Business Saturday
Saturday, November 24, 2018 is Small Business Saturday® – a day to celebrate and support small businesses and all they do for their communities. Please join the SBA and organizations across the country in supporting your local small business by shopping at a small business. Learn more about Small Business Saturday from the SBA here.
We use affiliate links – learn more
here
.