Share on Facebook
Tweet on Twitter
Pin on Pinterest
Submit
Video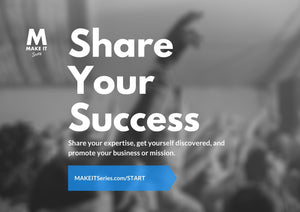 Shipping
calculated at checkout. Please review our
Submission Guidlines
and
Submission Agreement
below.
We'll show you how.
Share your knowledge to help others succeed, promote your business or mission, and get yourself discovered. 
 

WRITE IT

Write an article about what you know authentically. Use our expert template to pull from your own experience to write 3 - 10 top tips for success in your field. *

Not sure you're an expert? Check out the How To Monetize Your Expertise guide.


SHARE IT

Together, we'll promote your article, link to your business, and share your expertise with our audience.*


MAKE IT

We may select you to produce a video series, online classes, and other offerings around your expertise to help you continue to build success, impact, and your personal brand as an expert in your field.
SUBMISSION AGREEMENT: Thanks for your interest! All submissions and nominations must agree to the following: All photos and any other materials ("Materials") submitted to MAKE IT Series and/or THISLEARNING ("producer") (our parent company) cannot be returned at any time. By submitting Materials, you agree producer may, but is not obligated to, use the Materials in connection with producer's videos, websites, social media channels, or other properties (herein referred to as properties), in any way, in any medium, worldwide, in perpetuity. Further, you warrant all Materials are 100% original and do not violate the right of privacy or publicity of, or constitute a defamation against, any person or entity; that the Materials will not infringe upon or violate the copyright or common law rights or any other rights of any person or entity; that there are and will be no encumbrances, liens, conditions or restrictions whatsoever upon or affecting such Materials; and that you are at least 18 years of age and the person (or legal guardian of the person) depicted in the Materials. You agree to indemnify producer and broadcaster for all damages and expenses (including reasonable attorney's fees) arising out of any breach or failure of the warranties made herein.
SUBMISSION GUIDELINES: We will do our best to get you featured and help you succeed. However, due to volume and space limitations, your article might not be selected for publication or revenue/profit sharing. Reasons may include but are not limited to curators' individual quality judgment, a writer's past curation acceptance, and time constraints.
You can submit articles as either:
To help our readership and your organic promotion, we reserve the right to edit/alter your content to improve grammatical erros, add logos, bylines, ads, images, etc to your article. Note that we do not disqualify a submission due to when it was submitted (e.g., there is no "best time" to submit an article to us).  We reserve the right to respectfully decline projects or content that do not align with our
mission
, are not "safe for work" (SFW), or are not family friendly. When possible, we will provide feedback on why your article was not accepted, although our free feedback may be limited or not provided due to volume limitations.
Terms and Conditions (Services):
To secure your date(s) and prevent double-booking, full payment due in advance and at time of booking. We will make every effort to accommodate rain dates, but changes in dates/times within 7 days of service date are subject to the full amount. Overages charged 150% during normal hours, 200% outside normal hours or for rush/overnight. Travel w/in 15 minutes of Jersey City, NJ, included; additional travel extra. Edit reviews and final video provided in digital, on-line format. Physical delivery is extra and may incur additional shipping, handling, and taxes for entire production. Royalty free music refers to medium-sized audiences and streaming web delivery. We reserve the right to notify you in advance of increases or decrease prices in line with taxes or any other dues or fees levied on your shoot, and to respectfully decline projects or content that do not align with our
mission
or are not family friendly. Discounts applied off of published prices for active services, cannot be combined with any other offers, and availability of products or services eligible for discount subject to change.
We use affiliate links – learn more
here
.