Share on Facebook
Tweet on Twitter
Pin on Pinterest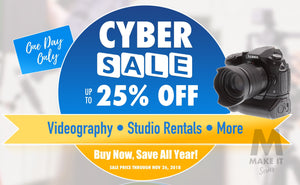 Buy Today, Save Up To $5,000!
Lock In 2018 Prices For 2019 –
Offer Good Only Through Monday, November 26th, 2018
How To Save Today
Purchase a membership retainer today and apply your savings throughout 2019. We will discount our published 2019 service prices by the % amount you purchase until your retainer is depleted. Once your retainer is depleted, our regular pricing will resume for the balance of the year.
Choose from any of our services:
Media Production (Video Recording & Editing)
Business Consulting
Studio Rental 
Have Your Next Video Professionally Produced
Event coverage, corporate messaging, fundraising, and more – 
Our professional team will work with you to capture your vision. Together, we will collaboratively decide on the video concepts, the look/feel and style, the location and set design, and lock down all the other details involved with how the actual videos are going to look, sound, and perform. Once we have the road map developed in the pre-production stage, we will put it all together in front of the cameras. We will then edit and post-produce a first draft for your review, from which you can direct up to four rounds of editing. Your final video will be delivered digitally (on-line) for you to download, or you may choose from one of our optional physical delivery formats.
Scroll down to see examples of our work below.
Use Our Downtown Studio
Events, parties, and more –
Our clean, sun-drenched second floor walk-up studio space available for event rentals, meetings, video production, and photo shoots in the heart of Historic Downtown Jersey City. Our 1,500 square foot space off of the Newark Pedestrian Plaza is versatile for a range of purposes, and proximity to parking lots and PATH Station make this a fantastic destination. Capacity is 49 occupants.
About Cyber Monday
Cyber Monday has become the online equivalent to Black Friday and offers a way for smaller retail websites to compete with larger chains. Since its inception, it has become an international marketing term used by online retailers across the world. Read more from Wikipedia here.

We use affiliate links – learn more
here
.